Earned a permanent position after five months as a trainee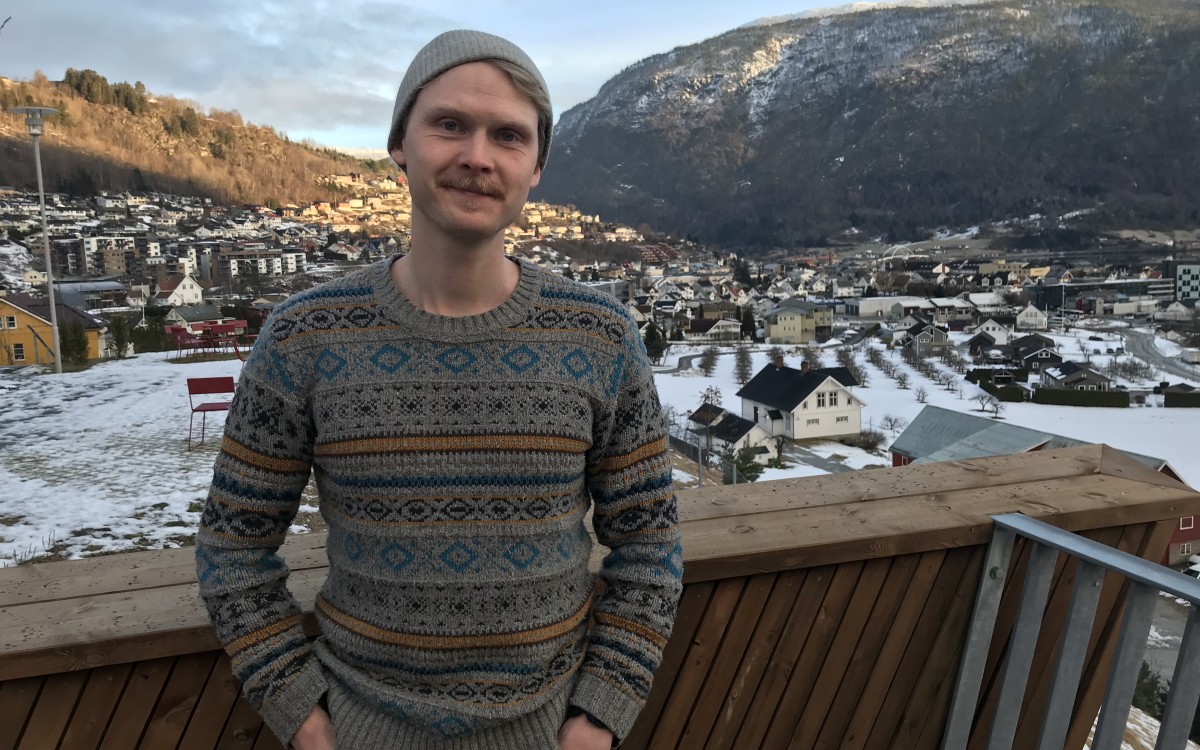 No more than five months into his trainee year, Torbjørn Selseng was offered a permanent position as a researcher at Western Norway Research Institute. – I thoroughly enjoy working as a researcher, says Torbjørn.
Torbjørn Selseng was well into his postgraduate degree before truly realizing what he was meant to do for a living.
As many young Norwegians of today, the newly-appointed researcher found himself taking a bachelor's degree simply because this seemed like the thing to do. Having completed a bachelor's degree in Journalism at Volda University College, he set out for another one at the University of Oslo, this time in Political Science, before practising Journalism at the Norwegian Broadcasting, working mainly as a radio news reporter.
Returning to his hometown Sogndal, Torbjørn was part of the second set of master's students at the brand-new master's programme Climate Change Management at Western Norway University of Applied Sciences. A student once again, this time at an inter-disciplinary programme touching on most aspects of climate change, including societal consequences, Torbjørn had a completely different experience of studying.
An intriguing topic
– As I began to learn more about climate change, I noticed that the topic evoked a really strong interest in me, profoundly altering my experience of being a student, says Torbjørn.
The master's programme provides a broad approach to climate change, including perspectives from disciplines such as biology, geology, and land-use planning. Torbjørn felt an urge to gain a proper overview of the field and, consequently, to be able to put things into a greater context.
– Studying because you want to is extremely rewarding. You start searching for information in new ways, he says.
How can I become a scientist?
Driven to learn more, Torbjørn played with a new thought: Would it be possible for him to pursue an academic career?
A few months into his first year as a postgraduate student, Torbjørn asked the dean how he could go about pursuing a PhD. Was it at all doable from Sogndal? The concept had, until then, been completely off his radar.
– I gave it a lot of thought, because I like setting myself goals. As soon as Western Norway Research Institute posted an advertisement of a trainee position, I was ready and had already signalled an intention to apply, he recalls.
His current employer is convinced that Torbjørn has a set of qualities thar are highly suited to academic research: 
– Torbjørn has demonstrated that he is a highly talented researcher. Therefore, we have been most happy offer him a permanent position, following only five months as a trainee, says Anders-Johan Almås, Managing Director since October 2019.
Captured by methodology
The most unlikely aspect of research was what captured Torbjørn and gave him a feeling of having stumbled across something significant: research methodology.
As he started his methodology course, the postgraduate student started to grasp the range of possibilities embedded in formulating research questions and choosing a research design.  
– One may spend a lifetime working on the perfect research design, Torbjørn ponders.
He set out to write his dissertation,"Beyond democracy: Assessing the effects of democratic qualities on CO2", which pertained to how democracy affects carbon emissions.
An affinity for numbers
Torbjørn was soon noticed, not least for his rare affinity for quantitative methods. He has always liked numbers, and remembers enjoying maths as a primary and secondary school pupil. Although his media and communication programme in upper secondary school caused a temporary break with numbers, Torbjørn is now happily reunited with this favourite subject of the past through quantitative research related to climate change adaptation. 
– What we call "truth" is nothing but a product of the methods and criteria we apply to decide whether or not something is true – what we have hinged our entire world on, says Torbjørn. He is intrigued by epistemplogical questions such as what it takes for us to accept something as true, and whether this threshold may be adjusted.
A knitter on the side
In addition to being recognised for his radio voice, Torbjørn is locally known as the founder of a small knitting business, producing machine-knitted clothing made of Norwegian sheep's wool.
This side career was triggered by the decision of his former employer, the Norwegian Broadcasting, to let all non-permanent employees go in 2015. Suddenly without a income and something to do, Torbjørn took up knitting, starting with traditional, woollen headbands.
Five years on, he is still running his brand, «Bjøddn», selling his woollen products, all made in Norway.
Useful trainee programme
For some 15 years, the trainee programme Framtidsfylket has helped enterprises such as Western Norway Research Institute recruit young employees. The programme's managing director, Linda Hovland, remembers thinking, early on, that Torbjørn was someone "who had a lot to offer". She is not at all surprised that he was offered a position so soon.
– One of our programme's goals is for trainees to be offered permanent employment before the end of their trainee period. We are very pleased to hear of enterprises finding good candidates and trainees thriving in their jobs.
– For a satisfied employer to wait until the final months of the programme before providing an offer, is quite unnecessary, she adds.
Torbjørn considers the trainee programme an excellent pathway from student life and into working life.
– The programme really delivered according to its promises. Starting out as a trainee made the entire transition a lot easier, he says.